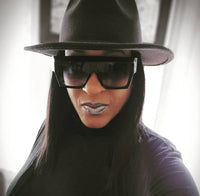 PASCALE N. BARON
As an artist, I work hard to develop paintings that speak to both me and others about the beauty that exists in the world. I am a proud mother of two. Patric, my reserved teenage son and my 9-year-old diva of a daughter, Paige (I wonder where she gets it from). My hand-painted designs are inspired by the vibrant colors of my parent's native homeland, Haiti and the melting pot of cultures found in Brooklyn, New York, where I was born and raised. PpPARTWORK portrays women of color, especially of the Afro-Caribbean culture in an array of bold and striking colors and hues. PpPARTWORK came to fruition when, a then 4-year-old Paige, found a paintbrush that was hidden in the back of a closet and asked, "Mommy, what is this?". That question brought back memories of my younger years, when I painted for fun. This lost treasure reignited my creative itch and my love for fashion. I decided to recreate her art on fabric. PpPARTWORK was officially launched in the Spring of 2015. I started with a limited number of items and sold them at local wine shop on Flatbush Avenue in Brooklyn. The launch was such a success. I received amazing feedback about the art and I SOLD OUT the same day! I thrive to give each customer a one-of-a-kind piece of wearable ART that expresses my love for the culture!
PPPARTWORK stands for – Pascale  Patric Paige, to remind them to live out their lives creatively as their imagination can take them.
Words from Happy Customers
"If creativity is intelligence, Pascale is truly a genius. Her designs are not only chic but very inspirational."



Liz (Florida)
Love love her work one of a kind hand painted wearable art Amazing customer service and fast shipping I have never been disappointed!!!

Author's name❤️ Sonya B. Navarre (Washington Dc)
PPPARTWORK has the most innovative bags! Every time I wear one of her bags, I'm stopped in the street! She's so friendly and professional!



Vikki, D.C.